Denis Pieret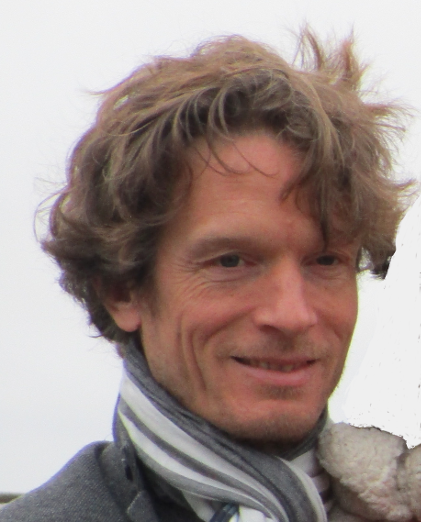 He graduated from the University of Liège with a doctoral thesis in political philosophy titled "Les frontières de la mondialisation. Gestion des flux migratoires en régime néolibéral" (PULg, 2016). He then focused also on "philosophical practices" that he teaches as a lecturer at the University of Liège. Since 2014, as a trainer and coordinator of the association PhiloCité, he is aiming to spread philosophy within the public space. He worked with children, teenagers, general public, teachers, and health professionals.
In March he participated with Oncolo Chairman of the Board Narifumi Nakaoka in a symposium on Philosophical Dialogue at the Toyama University.
We had the opportunity to talk to him about his work at PhiloCité, confronting his practice with ours at Oncolo.
Here is the interview.
Question: At PhiloCité you provide – as a philosophical counselor – support for the medical team as well as for the patients in need. My question is if you also have a kind of support since I imagine these meetings are quite frequent and the topics of the meetings surely affect you as a person…
Answer: So far, it is very unusual for us to work with patients. It happened, but I cannot rely on such few experiences. Nevertheless, it is true that we are sometimes strongly affected by situations brought up by teams. We do not have a support as such (as psychologists have on a regularly basis, for example). But we take care of it – and so far it is satisfactory – in two ways. First, we usually work as a pair. After each meeting, we have a debriefing together to analyze what happened. Second, we hold auto-supervision meetings internally with PhiloCite's team where we can address those kinds of issue.

Q During our meeting in Osaka we asked you how to deal with "shy" people who are afraid to speak when in a group. You suggested, for example, to ask them if they agree or not with the last person who spoke. However, if I may ask straightforwardly, I do not always have any answer. That person could feel uneasy to be asked directly an opinion about somebody else. Or, what is this person only participate if directly addressed? Do you think that, with time, this person will begin to spontaneously speak and express his/her opinion?
If not, do you know some other "games" or exercises we could use to practice the ability to discuss with one another? To make our philosophical discussion a "real discussion" and not a collection of personal statements?
A Please let me answer your question from different angles:
1) Trying to bring someone to be active in a discussion may be delicate. It is difficult to give a definitive answer to that problem. Because it might not be a problem. In certain circumstances (and it depends on the goals you pursue), being silent is fine, because being silent does not necessarily mean being distant from the discussion. I would say that, at least, we have to make sure that it is fine for everyone and that nobody feels uncomfortable.
2) In general, we believe that uneasiness has to be tackled, of course cautiously, in order to render a new attitude possible, because uneasiness inhibits thinking.
3) "what is this person only participate if directly addressed? Do you think that, with time, this person will begin to spontaneously speak and express his/her opinion?" As long as it is okay for this person to participate only when directly addressed, I do not see any problem. What could lead her/him to spontaneously speak is to raise positive effects of her/his speech and invite her/him to speak again whenever s.he has a new idea.
4) "If not, do you know some other "games" or exercises we could use to practice the ability to discuss with one another? To make our philosophical discussion a "real discussion" and not a collection of personal statements?" Yes, there are many games and exercises, but it would be too long to explain here and it requires live experimentation and training. For example, to tackle the problem of difficulty to speak in public, you could bring participants to start the meeting by working in pairs. We often do that when the starting point of the discussion is a text and when we want participants to find their own questions about it. They would read the text and suggest a question after discussing in pairs, then bring the question to the whole group. This offers better conditions for shy persons to express themselves. But this is just one little example of what is possible.

Q Did you find any difference (culturally speaking) between Belgian (or in a broader sense European) participants and the Japanese ones?
A Actually, I could not find much differences, even though I was warned and very curious about it. Maybe I have been blind or maybe I did not stay long enough. (By the way, I would be very interested if anyone noticed differences.) When we start working with people that do not know us – wherever it takes place -, there can be embarrassment or difficulties. It is inherent to the effort we try to stimulate. But I did not notice any special difficulty in Japan.
Q Do you think that a different cultural background should influence the way you facilitate a dialogue and, in that case, how?
A I definitely think so. I can even say that each group we work with for some time influences the way we facilitate dialogues with them. We have to be firm on our goals (bring people to think together) and flexible on the means. The fact that we do not have ready-made formula is what makes our work interesting for us in the long run, because we learn from every group we work with.
Q Could you please name some of the topics (subjects) on which you have implemented dialogues with patients or healthcare workers?
A As I said before, we usually work with healthcare workers, not (yet?) with patients. I scanned the last two years overviews of our work with a interdisciplinary health centre and a second line palliative care centre and I picked a number of topics. All of them are related to real situations they were facing. (I have dozens of other topics with other teams)
– accusation of racism inside a team
– relation between the team and the board of directors
– efficiency at work
– self-management
– explicit and tacit forms of power
– equality and wage differences
– curative and preventive care
– the uncertainty of the future
– how to come out of an interpersonal conflict
– how to handle cultural differences with patients
– how to deal with patient non-compliance
– freedom and responsibility
– integration of trainees (MD)
– formal and informal discussions between colleagues and the problem of the rumor
– benevolence and plain-spokenness
– end of life, palliative care, euthanasia and the society
– relation with the frontline (as a second line service) and the paradigm of translation
– individualism vs collective work
– speech as a medical act
– how to deal with emotions
– palliative care and curative care
– speech and silence
– rules and practices : what should be formalized and what should not
– complaints (of patients, of the frontline)
– the demand analysis and the ability to refuse an application
– the risk of being exploited (by the frontline)
– personal values and institutional missions
– being drawn into the patient's family relation
– layoff of a colleague
– interdisciplinarity in health care
Q How many participants do you usually have?
A Between 10 and 20, usually 17-18. If they are more than 22, we split the group in two.
Q As to the time of the day, when do you implement the dialogue and how long?
A In the morning or in the afternoon, generally, for 2 or 3 hours, depending on their availability (a 3 hours dialogue is better to go deep), once in a month.
Q Do you pay a specific consideration to the place of the dialogue? What does the room interior look like, for instance?
In our case, we use a meeting room of the hospital, so we decorate the desks with flowers for the participants to be able to relax.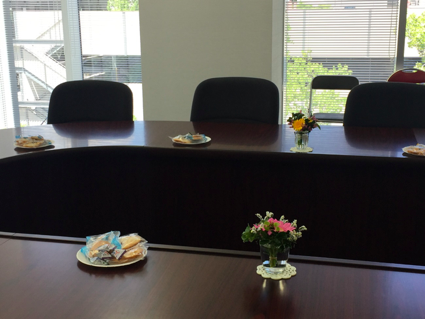 A Yes, we do (even though we are constrained by their own meeting room), and that is something we insist on in our training sessions as well. The spatial arrangement is very important. You do well, especially if you need to make the room less "hospital-like".
Q Could you please tell us some of the impressions or thoughts of the participants (patients or healthcare workers)?
A The impressions you report prove that you are doing great, because that is what we try to stimulate : think together, even in difficult situations, and feel better, thanks to the others. I can only give you some feedback from health workers, very summarized (I take the latest examples, from a group with whom we have recently finished working, as it was planned – mental health for teenagers) :
– a relational and intellectual laboratory from which we come out with best knowledge and tightened relationships
– a sort of "out of comfort zone" test
– an increased sense of responsibility together combined with the pleasure of discovering my colleagues in a new light
– an increased capacity of concentration and a new way of thinking and interacting with each other
– the feeling that we were understood, as if you had always knew the specificity of our work
– the expertise of everyone has been put to light and used
– a new perspective on our ways of working together and with patients
– a clarification of unseen problems
Q As you facilitate a philosophical dialogue for healthcare workers, would you proceed in a different way as you do for patients? Please tell us if there is anything you are especially careful about.
A Certainly we would do differently, because there is a specific – and pragmatic – goal for healthcare workers (improving their way of working together) that is a priori not there for patients. That said, we would still do the usual with patients : hook general ideas to concrete situation and vice versa, look for bothering problems to foster interest while offering ways out to remain in comfortable conditions, try to build a united group who like to gather. We would also probably try to multiply the types of starting points (texts, images, pictures, art, music) and ways of expressing thoughts (writing, drawing, painting, acting…). But those are just ideas that come to my mind now, and out of any context.
So, with health workers, we never forget the pragmatic issues at stake : they have to go back to work strong and confident in their collective ability to handle difficult situations.
Q Is it possible, with euthanasia as an alternative, to alleviate pain to patients who are conscious of death? Would you kindly tell us your view, even if a personal one?
A I believe that choosing euthanasia is a deeply personal matter that has to be discussed thoroughly and thoughtfully. Each case is singular.
Euthanasia in Belgium is not – strictly speaking – a right, it is decriminalized in certain circumstances and this is very cautiously circumscribed by the law. One of the conditions is unbearable suffering that cannot be appeased (including psychological suffering). So, technically, the answer to your question is yes – and I insist : in Belgium's legal framework –, but it must not be understood as a closing option to the existential and most common fear of death. I hope I answered your question in any way; I will be glad to discuss that topic further on with you.
Q In terms of "safety" of patients (dialogue participants), "never hurt!" principle is so important in Japan that we hesitate to assert "death." That's why we had to be very careful in introducing Oncolo Café. What is the case in Belgium? How do you comprehend "safety" of participants of dialogue dealing with death?
A I can only answer in terms of principle. I think most of the philosophical practitioners would agree with your "never hurt!" principle. So, I understand why you are very careful with words that hurt, especially when you work with cancer patients. Of course, in a philosophical dialogue, we do not want anyone to hurt anyone. But sometimes, it hurts. So, I would say that being careful with the safety of patients – which is necessary – should not lead to insinuate taboos.
Sometimes we prefer to hide a pain and we do not want anyone to touch it, and that is right. But sometimes we feel at ease and strong enough to bring to the front a hidden pain, because we feel ready for it and we believe that it can lead us to a better stage. There is no point in forcing any topic, but all doors must be "openable." I could say, in very general terms, that one of our goals is to have a group mature enough to dare to deal with what hurts, if and when they feel the need for it.
Q In Oncolo Café, participants – patients, family members, or healthcare workers – discuss subjects which have no immediate connection with the disease. For a facilitator like me (Nakaoka), it is important to focus on individual narratives of the patients or family members; especially when patients begin to talk about their experience or feeling, I always try to listen to it with respect. A narrative of a patient can raise sympathy of other patients and induce their own narratives. Now my question is: In the above explained way of facilitation, we can hardly expect the "critical" element, a requirement of philosophical dialogue, to occur in the dialogue; how would you evaluate it?
A I understand that you do not want to bring participants face to face and I believe it is right. Still I think that some kind of critical work can be done with narratives, in the safe way you mentioned above. Trying to identify what is common to two narratives and what is different, for example, are critical actions. It also leads to conceptualization because we have to give a general name to the common thing we sense in two different stories.
Q The above question came to my mind because you pointed out in his presentation in Toyama, that "A philosophical dialogue needs persons who do not set back, who take the floor, who "dare to know" and "have the courage to use (their) own understanding." This request seems to be based on the enlightenment model of self-sufficing man. Do you demand that patients with cancer or intractable disease be autonomous and courageous as well?
A I must clarify what I meant by that. It is true that we need that courage, but I do not mean it in a prescriptive way, as if there was a model of courage that everyone needs to comply with. If everyone had "the courage to use their own understanding" – and we all have experiences of our own "minor-minded" flaws –, we would not have to facilitate many philosophical dialogues. Autonomy (in a sense that we should discuss further on) and courage to think are goals rather than conditions. Depending on origins, education, values, states of mind, health conditions, moment of the year or whatsoever, we are unequal in the face of "courage." So, trying to answer your question, I would say : I do not demand them be autonomous and courageous, I would hope our collective philosophical dialogue might encourage them to use their own understanding to think whatever they want and need to think.
Q You also emphasize "philosophical work," "the effort to increase self-presence, that is consciousness of what leads me to see this." Now my question is: Do you think that the philosophical work is also important in the final stage of our life?
A As I said above, I believe that this effort is everywhere we try to have a real dialogue I would even think that if philosophizing at the final stage of our life is about that effort.